Eating with our ears: assessing the importance of the sounds of consumption on our perception and enjoyment of multisensory flavour experiences
Received: 19 September 2014
Accepted: 29 October 2014
Published: 3 March 2015
Abstract
Sound is the forgotten flavour sense. You can tell a lot about the texture of a food—think crispy, crunchy, and crackly—from the mastication sounds heard while biting and chewing. The latest techniques from the field of cognitive neuroscience are revolutionizing our understanding of just how important what we hear is to our experience and enjoyment of food and drink. A growing body of research now shows that by synchronizing eating sounds with the act of consumption, one can change a person's experience of what they think that they are eating.
Keywords
SoundFlavourCrunchyCrispyCrackly
Conclusions
Sound is undoubtedly the forgotten flavour sense. Most researchers, when they think about flavour, fail to give due consideration to the sound that a food makes when they bite into and chew it. However, as we have seen throughout this article, what we hear while eating plays an important role in our perception of the textural properties of food, not to mention our overall enjoyment of the multisensory experience of food and drink. As Zata Vickers ([54], p. 95) put it: 'Like flavors and textures, sometimes sounds can be desirable, sometimes undesirable. Always they add complexity and interest to our eating experience and, therefore, make an important contribution to food quality.' Indeed, the sounds that are generated while biting into or chewing food provide a rich source of information about the textural properties of that which is being consumed, everything from the crunch of the crisp and the crispy sound of lettuce, through to the crackle of your crackling and the carbonation in your cava. Remember also that, evolutionarily speaking, a food's texture would have provided our ancestors with a highly salient cue to freshness of whatever they were eating.
In recent years, many chefs, marketers, and global food companies have started to become increasingly interested in trying to perfect the sound that their foods make, both when we eat them, but also when we see the model biting into our favourite brands on the screen. It is, after all, all part of the multisensory flavour experience. In the future, my guess is that various technologies, some of which will be embedded in digital artefacts, will increasingly come to augment the natural sounds of our foods at the dining table [
8
,
23
]. And that is not all. Given the growing ageing population, there may also be grounds for increasing the crunch in our food in order to make it more interesting (not to say enjoyable) for those who are starting to lose their ability to smell and taste food [
118
]. Finally, before closing, it is worth noting that the majority of the research that has been reviewed in this article has focused on the moment of tasting or consumption. However, on reflection, it soon becomes clear that much of our enjoyment of food and drink actually resides in the anticipation of consumption and the subsequent memories we have, at least when it comes to those food experiences that are worth remembering (see Figure
4
). As such, it will undoubtedly be worthwhile for future research to broaden out the timeframe over which our food experiences are studied. As always, then, much research remains to be conducted.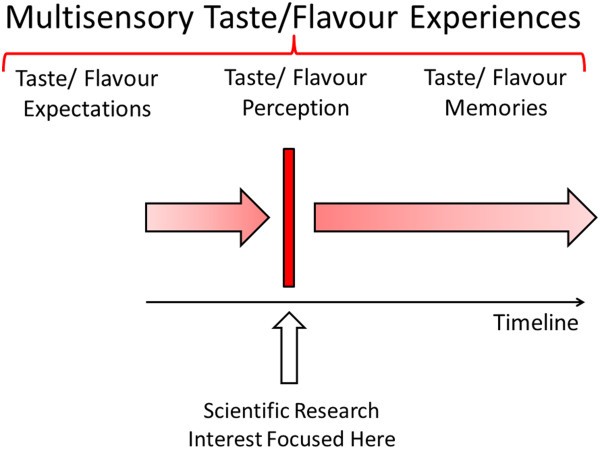 Endnotes
aIf you take away the textural cues by pureeing foods, then people's ability to identify them declines dramatically ([12], p. 91).
b'Crujiente' = crispy, while crocante comes from the French and has apparently almost disappeared from the Spanish language [63].
cThis is an audiotactile version of the phenomenon that we all experience when our brain glues the voice we hear onto the lips we see on the cinema screen despite the fact that the sounds actually originate from elsewhere in the auditorium [107].
dOf course, at this point, it could be argued that while these studies show that sound plays an important role in the perception of food texture, this is not the same as showing an effect on the flavour of food itself.
eEvolutionarily speaking, carbonation would have served as a signal to our ancestors that a food had gone off, i.e. that a piece of fruit was overripe/fermenting [85], thus making it so surprising that it should nowadays be such a popular sensory attribute in beverages; by contrast, it has been argued that crunchiness is a positive attribute since it signals the likely edibility of a given foodstuff and is associated with freshness [119, 120]. It is intriguing to consider here whether this difference in the meaning of different auditory cues (signalling bad vs. good foods, respectively) might not, then, have led to the different results reported here (cf. [121]). On the other hand, though, it also has to be acknowledged that the specific frequency manipulation introduced by Zampini and Spence [78] may simply not have been altogether ecologically valid, or meaningful, in terms of the perception of carbonation [84].
fAnd as we saw earlier, research from Vickers [41, 122] has shown that we can use those food biting and mastication sounds in order to identify a food, even when it is someone else who happens to be doing the eating.
gHere, we need to distinguish between air-conducted sound, the normal way we hear sound, and bone-conducted sound. It turns out that the jawbone and skull have a maximum resonance at around 160 Hz [33, 123].
hThe pitch of eating sounds changes (specifically it is lowered) by changing from biting to chewing, and, as a result, judgments of crispness tend to be lower ([55, 58]; though see [124]). Chew a food with the molars and the mouth closed and what you will hear is mostly the bone-conducted sound, thus lower in pitch.
iOne might worry here about the effect of blindfolding on participants' judgments [125, 126]. However, to date, researchers have been unable to demonstrate a significant effect of blindfolding on people's loudness, pitch, or duration judgments when it comes to their evaluation of food-eating sounds [112].
jRietz [127] would seem to have been thinking of something of the sort when he suggested many years ago that eating blanched almonds with smoked finnan haddie reduced the fishy flavour of the latter through 'an illusion caused by the dominance of the auditory sense over that of taste and smell generated by the kinesthesis of munching'. However, no experimental evidence was cited in support of this claim.
Declarations
Acknowledgements
CS would like to acknowledge the AHRC Rethinking the Senses grant (AH/L007053/1).
Authors' Affiliations
(1)
Crossmodal Research Laboratory, Department of Experimental Psychology, Oxford University, Oxford, UK
Copyright
© Spence; licensee BioMed Central. 2015
This article is published under license to BioMed Central Ltd. This is an Open Access article distributed under the terms of the Creative Commons Attribution License (http://creativecommons.org/licenses/by/4.0), which permits unrestricted use, distribution, and reproduction in any medium, provided the original work is properly credited. The Creative Commons Public Domain Dedication waiver (http://creativecommons.org/publicdomain/zero/1.0/) applies to the data made available in this article, unless otherwise stated.